Recognising the demands of PSV operators both large and small, Imperial Engineering has built a reputation for supporting the needs of bus parts customers in a fast-moving industry.
With leading brands such as Knorr-Bremse, Haldex, Dana and Wabco parts. We keep things simple, reliable and cost effective and we do not surcharge our products.
Our own fleet of branded vans cover the London area – bus parts London, whilst we have well established logistics arrangements with leading delivery partners. It's our policy to collect old core or faulty items upon delivery of new bus parts and coach parts UK. This enables us to return any defective items straight to the OE manufacturers, which means that customer workshops do not have to dispose of end-of-life units, saving them time and money.
As a well-regarded industry specialist in the sourcing of original, brand new bus parts London and coach parts UK, Imperial Engineering is proud of its longstanding responsibility in contributing to the safety and reliability of the nation's public and private transportation service. Imperial Engineering supplies a massive range of PSV parts and components, directly from leading global OE bus and coach parts UK manufacturers, including Knorr-Bremse, Wabco parts, Meritor and PSS.
A wide product range of bus and coach parts UK
Encompassing all areas of the vehicle, from braking and friction products, drivetrain, turbos, propshafts, steering components and water pumps, in fact, all bus parts that operators need, Imperial Engineering offers the highest product range available in the industry.
A robust warranty process offers peace of mind to customers, who can be reassured that Imperial Engineering brings first class experience of the bus and coach spares industry to the benefit their operation and business.
Supplying bus parts to London and the UK
We pride ourselves on our accountability and customer-centric approach, which instils confidence and trust. Imperial Engineering has built a number of long-term customer relationships, developed through our unstinting attention to detail, knowledge and respect for their operations, whilst delivering ahead of the competition.
For further information on our Logics services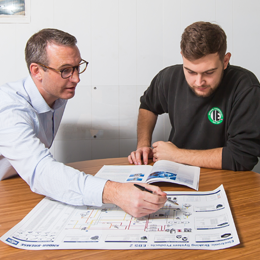 Skills, expertise and knowledge runs deep at Imperial Engineering. Continuing professional development is embedded in our culture, so that our team of engineers, sales executives, account managers and directors all have regular opportunities to grow their skills and knowledge for mutual benefit
Read More