When it comes to OEM bus and coach parts and PSV parts and components, quality is everything.
At Imperial Engineering, our business has developed over the years as a result of our unstinting approach to delivering the highest quality OEM bus and coach parts and PSV parts to our customers, from the largest national fleets to smaller regional independent operators.
Having built up a reputation as one of the leading bus and coach parts suppliers, Imperial Engineering is always striving to improve its service and product range in response to market demand and we encourage feedback from our customers on all matters relating to bus and coach repairs.
Imperial Engineering is proud to have achieved both the ISO 9001 certification for Quality Management Systems and Bronze FORS Accreditation, demonstrating our commitment to safety, efficiency and environmental protection.
Bus and coach parts suppliers with quality and care
As technology becomes more sophisticated, so the quality of OEM bus and coach parts has improved, making them more durable. With the advancement of diagnostics to further reduce misdiagnosis of faults, so Imperial believes there will be a continual decrease in PSV parts failure rates. As a market leader in the supply of brand new parts for coach repairs, our business is continually seeking opportunities to diversify its product range.
However, the emphasis remains on supplying the highest quality parts from industry recognised supply partners to ensure we can provide operators with reliability for their vehicles. This is key to reducing downtime costs and maintaining service efficiency.
Imperial Engineering is relied upon as one of the UK's most respected bus and coach parts suppliers to deliver all their PSV parts needs, in order to keep hundreds of the nation's bus and coach fleets on the road, safely and efficiently.
OEM bus and coach parts throughout London, Herts and the UK
Driven by an absolute focus and pride on delivering unrivalled service, Imperial Engineering is one of the UK's foremost bus and coach parts suppliers, covering all major OEM bus and coach parts manufacturers, ensuring that all coach repairs are of the highest standard.
A privately owned and managed company, Imperial Engineering is a primary distributor for Dana, Knorr-Bremse, Wabco, Haldex and Meritor products and only sells brand new, genuine OEM bus and coach parts. Our committed service and attention to detail ensures that customers have total peace of mind when fitting the highest quality components to their vehicles. Imperial Engineering offers the widest range of PSV parts, including braking and friction products, propshafts, steering components, water pumps and turbochargers.
If you would like to know more about our quality service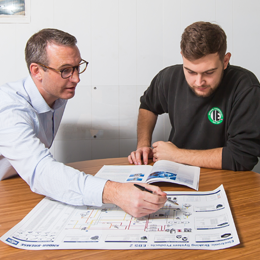 Skills, expertise and knowledge runs deep at Imperial Engineering. Continuing professional development is embedded in our culture, so that our team of engineers, sales executives, account managers and directors all have regular opportunities to grow their skills and knowledge for mutual benefit
Read More