As a leading distributor of OE coach parts and bus parts UK, Imperial Engineering places great importance on ensuring customers are protected by its warranty process.
In the rare event that coach parts or bus parts UK are found to be faulty, damaged or otherwise unfit for purpose, please contact Imperial Engineering straightaway. We will arrange for the bus or coach parts to be collected by one of our own drivers, together with a customer's completed Warranty Claim Form.

Our process for warranty claims on bus or coach parts is as follows:
Customer to inform Imperial Engineering regarding intended warranty claim, so that query can be logged and arrangements can be made for defective item collection.
Download and complete all sections of the Warranty Claim Form and attach this to the warranty item, keeping a copy for their own records.
Customer to package the defective item securely for collection by Imperial Engineering, clearly marked – Warranty Returns. Important note: Customers are asked not to mix warranty and core unit returns, as they are processed by separate departments at Imperial Engineering. Failure to comply may lead to the loss of a warranty claim. Items may be collected together as long as they are packaged individually as separate consignments. Thank you for your co-operation in this matter.
On delivery of the bus or coach parts, Imperial Engineering will forward on the item to the relevant OE coach parts or bus parts UK manufacturer for inspection and examination of a customer's warranty claim.
If the OE manufacturer is satisfied that a warranty claim is verified, the customer's account will be credited accordingly or a replacement part will be supplied.
Imperial Engineering will send the customer a Warranty Claim report.
If a customer has any queries relating to a warranty claim, please contact us. Alternatively, you can call Imperial Engineering on 01992 634255.
Imperial Engineering is an authorised test centre for Knorr-Bremse and Haldex.
If you have found our products to be faulty or damaged, please complete the warranty form and…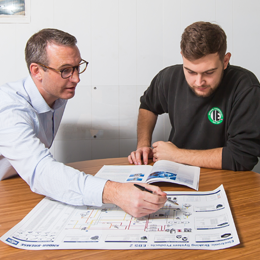 Skills, expertise and knowledge runs deep at Imperial Engineering. Continuing professional development is embedded in our culture, so that our team of engineers, sales executives, account managers and directors all have regular opportunities to grow their skills and knowledge for mutual benefit
Read More